Best Writing Services in 2023
| | service name | Features / Details | Rate | More |
| --- | --- | --- | --- | --- |
| 1 | | 📌 Pretty good support team 📌 Timely deliveryv 📌 High quality 📌 User-friendly website | 5.0 | Visit Site Read full review |
| 2 | | 📌 Ability to choose writers 📌 Affordable prices 📌 Good qulity of essays | 4.7 | Visit Site Read full review |
| 3 | | 📌 Possibility of getting a VIP status 📌 Low prices 📌 ENL writers 📌 iOS / Android app | 4.5 | Visit Site Read full review |
Service features
| | |
| --- | --- |
| Min Price | $10.8 |
| Max Discount | N/A |
| Min Deadline | 3 hours |
| Free revisions | yes |
| Refund guaranteed | yes |
Survice Overview
For a service that's been around since 2015, Studyfy is surprisingly unclear on its owner and registration. The tiny print in the footer claims the website belongs to Online Academic Services Ltd, based in Mauritius. At the same time, the Terms and Conditions claim the service is governed by the laws of Delaware. But that's not the most surprising thing you'll get from my Studyfy.com review.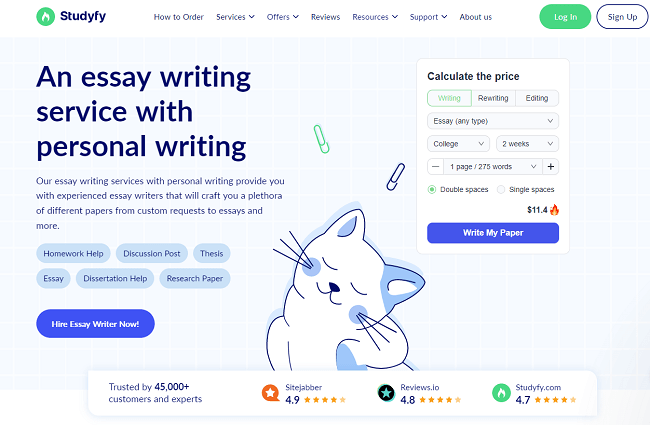 Types of Papers Available
Below is the list of academic services Studyfy provides to high school, college, and postgraduate students:
Writing
Rewriting
Editing
Proofreading
Problem-solving
Calculations
Quality of Services
I wanted an in-depth argumentative piece on the effect of sleep quality on college students' cognitive function in class. The writer was supposed to use five journal articles to supplement evidence, but they went with blog posts and newspaper columns instead. And the piece turned into an instruction on how to sleep better instead of highlighting the core relationship between sleep and cognition. Besides, I got tired of correcting typos after the first page, so I'm sure the writer skipped a proper spell check before sending the paper my way.
Studyfy.com writers
Do not let the writers' profiles fool you. They may look impressive on paper, but I doubt most have anything to do with research or academia. At best, they are down-market copywriters who constantly forget that Wikipedia is not an appropriate source for an academic paper. On the bright side, my writer had decent English, even if they clearly didn't know how to use spell check.
Studyfy.com plagiarism
I didn't notice any complaints about plagiarism across other reviews, and I had no problems with the similarities. My Grammarly check returned around 5% of the similarities, which is acceptable in my school.
Studyfy.com Additional Features
The service provides a mix of free services, though most are pretty useless. For example, any text processor and a calculator app can replace a word counter and a word-to-page converter. And title and thesis statement generators deliver nonsense, while plagiarism and spell checkers don't compare to Grammarly or other niche apps.
PROS
CONS

3

Weak research and writing
PROS
CONS
3
Weak research and writing
Prices and Deadlines
The deadline limits are extremely broad, ranging from 3 hours to 2 months, while the prices start at $10.8. Unfortunately, I can't share more details about Studyfy.com pricing, as the bidding system makes estimates vague at best. Although you'll likely get a few offers with minimal estimated rates, most will be much more expensive.
Studyfy.com Discounts & Promo Codes
As a first-time customer, I didn't warrant a discount. And I found no mention of a loyalty program in the Terms and Conditions. The company may offer occasional deals, but I won't be sticking around waiting for a coupon.
Studyfy.com login & paper ordering procedure
The order process on Studyfy is unfairly annoying, as it doesn't provide an accurate order total estimate and requests your email upfront. It goes like this:
Create an account (email and password needed)
Confirm your email and log into the account
Share paper specifics (number of pages, academic level, deadline, etc.)
Add more details (topic, requirements, citation style, et.)
Compare writers' bids and pick the best
Confirm the order and cover the cost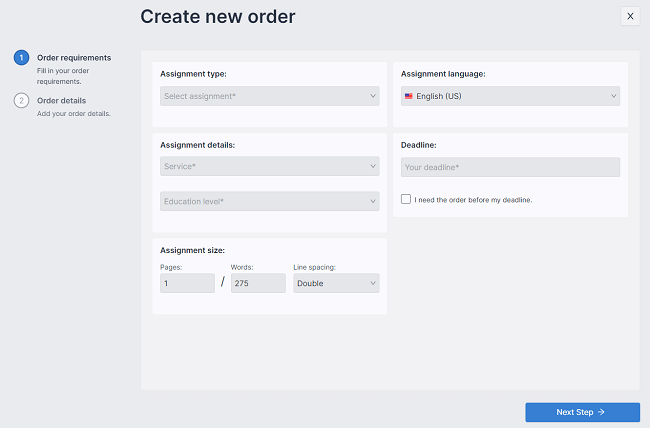 Guarantees
Revision and refund terms are vague and unhelpful. I didn't manage to convince the service to provide either, even though the writer ignored my instructions. Still, you'd have 14 days to secure a free revision if you were to try Studyfy.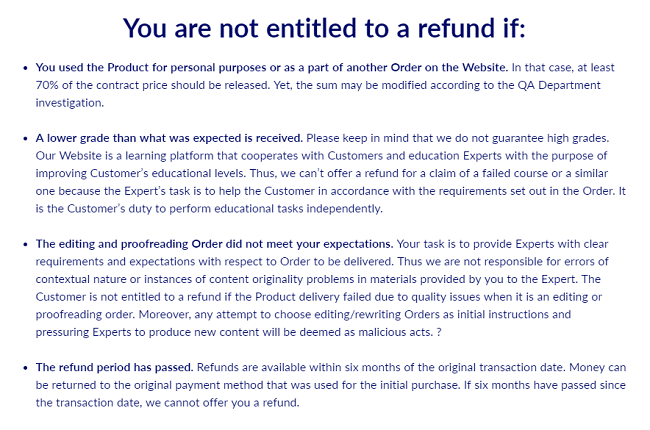 Online Reputation
The Studyfy.com rating on SiteJabber is close to 5 stars, with only one negative review out of nearly two dozen. Conversely, the Trustpilot account is completely barren. And Reddit is on the opposite side of the spectrum, with a handful of scathing posts complaining about poor communication, sloppy quality, and unmet requirements.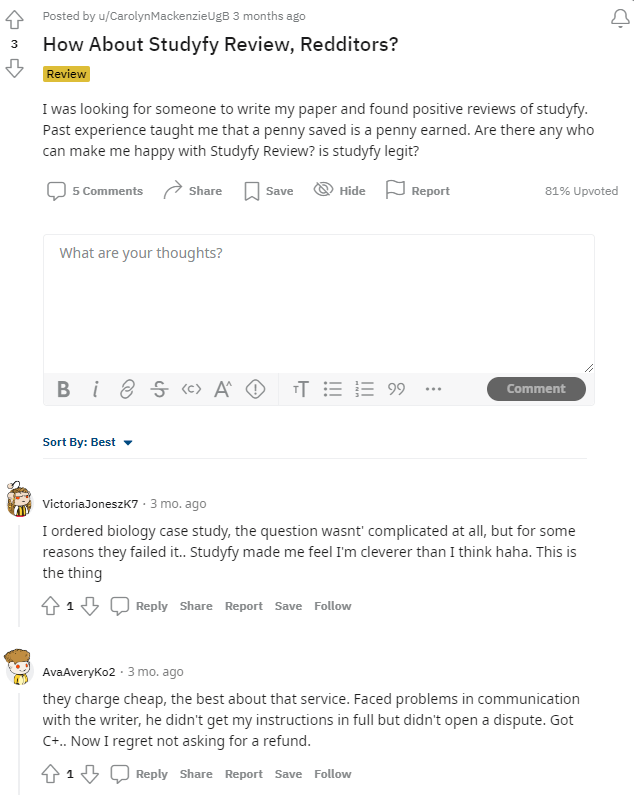 Social Media
I found the official Instagram and Facebook accounts, though they have seen no action in the last few months. Considering the low follower, like, and comment numbers, I guess the profiles were abandoned. And I didn't see any Studyfy.com reviews either, so my search was just a waste of time.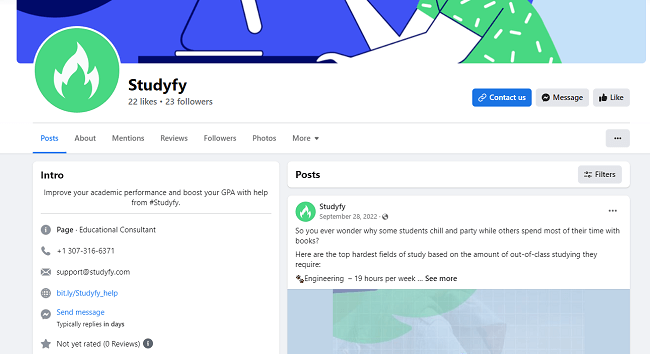 Customer Support
The support agents I chatted with were mostly helpful, though I had to suffer through the chatbot to get to the real person every time. While they answered my initial questions without fail, they became much less friendly after my revision request. Besides, the support team mostly ignores negative reviews on Studyfy.com and leaves them without a response, which is not the best strategy for a company that values its reputation.

Conclusion
As always, I tried to make this Studyfy review as objective as possible. It's not my fault their writers can't follow simple instructions, their website is misleading, and their policies don't work. Skip this company unless you wish to experience all these first-hand.
FAQ
No. The estimates are inaccurate, and the real rates are much higher.
No. They will deliver something for your money, so I wouldn't call them scammers.
Yes. The Studyfy writers ignore order requirements and make too many shortcuts to deliver a solid paper.
Yes. As long as you follow your school's honor code, you should be safe.
No. Although they won't disclose your personal info, they might deliver a plagiarized paper.
No. As proven by negative Studyfy reviews, the company doesn't deliver on its promises.
No. For the price you pay, you'll get an unusable jumble instead of a submission-ready piece.
No. The refund terms make it clear you'll never get your money back.
No. It's unclear whether the company is based in the US or Mauritius.